The current purpose of the Junior division is to provide rifle marksmanship instruction to junior shooters.
Juniors must be able to adhere to range safety procedures and discipline.
Generally juniors must be ten years of age as a minimum and pass from the junior program the year of their 20th birthday.
Our program focus is towards International (Olympic) aspects of rifle shooting.
Air rifle is a 60 shot standing (unsupported) event fired at 10 meters
Smallbore rifle is a 3-Position event (Kneeling, Prone, Standing) – typically 20 shots in each position – at 50ft and 50yd/m
These events are also those that are fired in NCAA Rifle competitions as well are Intercollegiate Rifle competitions.
Zia has trained dozens of shooters that have earned NCAA Athletic Rifle scholarships at Universities across the USA.
Notably, Zia has trained a 2015 NCAA Smallbore Rifle Champion and a 2020 Tokyo Olympic Smallbore Rifle Team Alternate.
More information on NCAA Rifles events here:   https://huskers.com/sports/2017/5/23/4313.aspx
All juniors must receive an initial range safety orientation on their first visit to the indoor range.
Most of the junior training sessions are conducted in the Club's 50 foot indoor range.
Training may be either with .22 caliber smallbore rifle or .177 caliber air rifle.
The programs offered are:
4-H Riflery Program
USA Shooting Jr. Olympic program.
Boy Scouts of America Rifle or Shotgun merit badge programs.
Our program bases are the 4-H riflery programs that are held in the various NM counties contiguous to Bernalillo county.  Call your county extension office to get information regarding the riflery programs in your county.
   > Requires air rifle and/or smallbore rifle participation based upon age (Novice, Junior, Senior)
   > The 4-H Riflery State Match is hosted annually in May at Whittington Center in Raton, NM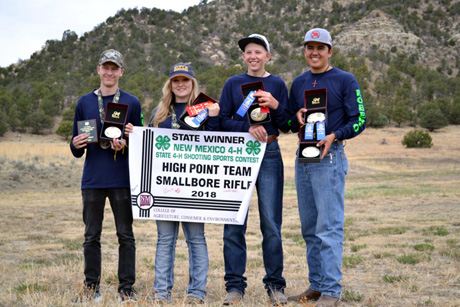 Training sessions are usually conducted on Saturdays starting at about 0830 and continuing until Juniors have completed their training relays.
Training sessions are published in the club Newsletter.
The Junior program hosts several registered sectional matches throughout the year.
These matches may be for juniors or senior competitors and are generally announced in the club newsletter.
These are 22 caliber, 50 foot competitions.
An annual USA Shooting Junior Olympic Rifle Qualifying (JORQ) match is held nominally in January or February.
Many months our juniors also participate in Prone matches at the Alb Shooting Range Park
The junior program has club equipment and accessories available for junior use.
Rifles, scopes, jackets, mats, etc. are available to juniors at no cost.
Ammunition is available is typically available at no cost due to the generosity of the Zia Board and the NRA Foundation Grant programs
Hearing and eye safety equipment must be worn at all times while training.
All non-shooters in the range house during practice must wear ear protection while shooting is occuring.
For more information, contact:
Joel Martin
Chair, Junior Division
Zia Rifle and Pistol Club
(505) 550-7988
Adult members wishing to learn more about coaching rifle, or coaching/training other shooting disciplines at Zia should call/email the Jr Division Chair. 
A great youth program for these other events is the 4-H Shooting program which hosts Rifle, Pistol, Shotgun, Archery and fieldcraft programs.
See here:  https://4-hshootingsports.org/  and call your local extension office to get involved